Introduction
Welcome to HiQnet Audio Architect
TM
Audio Architect represents the ultimate Harman Pro system design software. It is the culmination of several successful, award-winning applications.
From professional audio applications to the most detailed install designer, Audio Architect provides intuitive, creative, and powerful means of designing and executing a complete Harman sound system.
This guide will help you understand the functionality of Audio Architect as well as Harman Professional's HiQnetTM technology, which offers cutting-edge control over any audio venue.  You'll be able to map a system, make individual or global changes to Harman components, and control other users access to specific aspects of that system.
The guide is organized as follows:
Note: If the window below is displayed upon startup, Audio Architect screens and images will not display properly.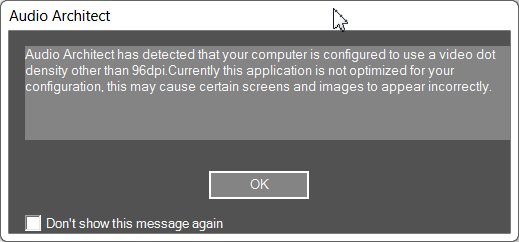 To correct this, right-click on the Windows desktop and select Screen Resolution. Select "Make text and other items larger or smaller".
Here, it is likely that the selection is set at Medium - 125% or something other than 100%. For proper display of Audio Architect screens and images, select Smaller-100%.  The computer will need to be rebooted.
HiQnet is a communications protocol or language with which all device-types within the full audio signal path can communicate.
The system is a flexible and intelligent system. This protocol is versatile enough to traverse any transport methodology - current HiQnet compatible devices employ serial, USB and Ethernet connectivity. In addition, HiQnet's compliance with the Universal Plug and Play (UPnP™) standard enables HiQnet devices automatically to negotiate HiQnet network addresses between themselves and device IP address assignment when on an Ethernet network.
HiQnet control software not only includes the all the necessary editing of device and system parameters but also offer the most simple user interface available today for routing of networked audio. To assist with this, the protocol itself is capable of wrapping around the transport medium employed by third-party networked audio protocols such as CobraNet, Audinate Dante and AVB.
Whether in real-time from a device's default software editor, from an advanced custom-designed control panel running on a touchscreen PC, with the HiQnet Motion Control iOS app, parameters from across a HiQnet system are instantly accessible.
Specifications
Supports Ethernet control

Supports USB control

Supports serial control

Supports up to 64 channels of streaming audio

Supports sample rates up to 96kHz

Supports in excess of 65,000 HiQnet nodes in a single system

Optimized for tablet use

Optimized for remote access

Universal Plug and Play (UPnP™) compliant

Multiple computer support